Upcoming Events
We look forward to connecting with you at various events. If you are attending one of the following events and would like to meet us, please contact us and let us know.

---


Denver, CO - August 20-22, 2019
Quest INFOCUS Site

Booth #422
Stop by and ask us questions about your JDE challenges.

We'll explain our virtual training setup showing you exactly what to expect when attending one of our public training classes, and we'll be handing out free bound copies of the JDEtips Knowledge Express Magazine packed with JD Edwards tips and techniques.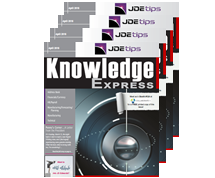 Attend Our Sessions:
CNC Session ID: JDE-103500 CNCs implementing Orchestrator, here's the "Gotchya's"
Wednesday, August 21 | 8:00 AM - 9:00 AM | Tower Court B

Implementing any new functionality or component can sometimes be a daunting task that takes more time than expected. Save yourself the precious CNC time and learn some the tricks and tips to implementing JDE Orchestrator.

Speakers: Tim McMurdo, JDEtips, Inc.
User Interface Session ID: JDE-100400 Everything you always wanted to know about UDOs but were afraid to ask.
Thursday, August 22 | 8:00 AM - 9:00 AM | Director' s Row E

It is impossible to discuss the future of JD Edwards without discussing User Defined Objects (UDOs) and the no-code solutions. If you are like many JD Edwards users; you have probably heard of; and may even be using; functionality like CafeOne and E1 Pages. Perhaps you are using Queries and OneView Reporting; but would like to learn more about the newer features and what they can do for you. Join Cindy Grim from JDEtips to learn all about UDOs; how they have improved; and see real-life examples of how you can use these great new tools at your organization.

Speaker: Cindy Grim, JDEtips, Inc.
Development Session ID: JDE-104690 E1 Development Tools vs. No-code Orchestrations. Who/What/Where/When/Why?!
Thursday, August 22 | 9:15 AM - 10:15 AM | Director's Row H

Are you overwhelmed by all things 'Orchestrator'? You are not alone! What does it all mean, no-code solutions vs the traditional development tools that we all know and love? Will Orchestrator replace the existing toolset or augment and enhance what we already have? It is impossible to discuss the future of JD Edwards without understanding the impact of all UDOs, and specifically Orchestrator? Will these new tools solve all of our JDE challenges, or will we still need to develop? Join Penny Allen of JDEtips as she discusses best practices for when to use UDOs and Orchestrator and when you will still need to use the traditional development tools.

Speaker: Penny Allen, JDEtips, Inc.